ABOUT TEAMSTERS LOCAL 700
TEAMSTER HISTORY: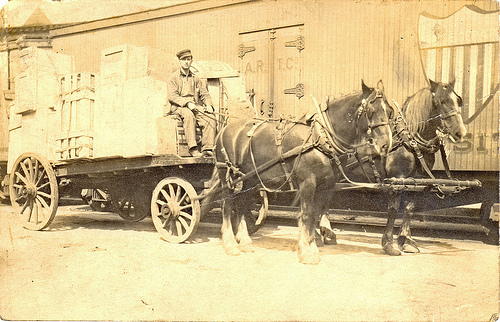 The Teamsters Union is the strongest and most diverse union in North America and, thanks to the "One Member, One Vote" amendment of 2001, also one of the country's most democratic.
In 1903, the Teamsters started as a merger of the two leading team driver associations. These drivers were the backbone of America's robust economic growth, but they needed to organize to wrest their fair share from greedy corporations. Today, the Union's task is exactly the same.
The Teamsters are known as the champion of freight drivers and warehouse workers but have organized workers in virtually every occupation imaginable, both professional and nonprofessional, private sector and public sector. Boasting an impressive 1.4 million members, the Teamsters likely represent workers in any given occupation somewhere.
Locals are the backbone of the union. There are nearly 1,900 Teamster affiliates throughout the United States, Canada, and Puerto Rico.
The Teamsters also belong to the seven-union, six-million-worker Change to Win federation.
The Teamsters stand ready to organize workers who want to bargain collectively. The Union provides professional service and representation, aggressive grievance handling, and skilled, experienced contract negotiators.
Wages and benefits under Teamster contracts are markedly better than those of nonunion employees in comparable jobs. Union workers typically earn 34 percent more than nonunion workers, according to the Department of Labor's Bureau of Labor Statistics. Teamster contracts are the guarantors of decent wages, fair promotion, health coverage, job security, paid time off, and retirement income.
The Teamsters Union also performs vital tasks in such areas as pension management, safety and health, community outreach, governmental affairs, and communications. For more than a century, the Teamsters have been a public voice for the rights and aspirations of working men and women and a key player in securing them.
---
TEAMSTERS LOCAL 700 is a public sector union, representing more than 10,000 public employees at the state, county and municipal levels across Illinois.
An affiliate of the International Brotherhood of Teamsters, Local 700 is the largest public employee local under Teamsters Joint Council 25, which covers all Teamsters locals in Illinois and Northwest Indiana. Teamsters Local 700 members also play a key role in the IBT's Public Services Division, representing 250,000 public employees nationally.
The membership of Local 700 is diverse across the public sector. More than 5,000 Teamsters Local 700 members work in law enforcement or a related public safety field. Other fields include administrative workers, drivers, highway maintenance workers, equipment, operators, laborers, fire fighters, mechanics, forest preserve workers, public works and more.
Local 700 members elect the Executive Board members to a five-year term. The positions held on the Executive Board are: President, Secretary-Treasurer, Recording Secretary, Vice President and three Trustees. The Executive Board meets monthly and facilitates the General Membership Meetings.
---
---
EXECUTIVE BOARD
Ramon D. Williams is a longtime Teamster member, organizer, and business agent. Having worked as a rank and file member for more than two decades, Ramon began working for the Teamsters as an organizer for Teamsters Joint Council 25 in 2006.

He has worked on dozens of local and national Teamsters organizing campaigns, including United Airlines and First Student School Bus Company.

Ramon, who still holds his commercial driver's license, worked as a driver for nearly 20 years and is a former member of Teamsters Local 705 and Local 731. He also served as a Business Agent for Local 726 before starting as a Business Agent for Local 700 in 2010.

A second-generation Teamster, Ramon's father, worked as a motor truck driver in the City of Chicago's Department of Streets and Sanitation.

Prior to being elected President in 2019, Ramon also served as Local 700's Organizing Director and Executive Assistant for many years. Additionally, he served as the Recording Secretary on the Local 700 Executive Board.
Robert has dedicated nearly 24 years to the transportation and logistics industry, including 18 years in the public sector.

A proud Teamster member, he worked for the City of Chicago for 15 years and was also a Foreman in the Department of Streets and Sanitation. Robert comes from a union household, as both of his parents are retired public sector employees.

He previously served the membership as a steward in the Water Department for six years and was also a member of the Local 700 Political Action Committee. He was elected Secretary-Treasurer of Local 700 in December 2019.
Anthony L. McGee has served Teamsters Local 700 as a business agent since 2010. Before joining the Teamsters full-time, Anthony was a rank-and-file member with the Cook County Department of Corrections.

While serving as a union steward, Anthony's natural leadership style and ability to communicate members' interests at the bargaining table was recognized, and he transitioned into the role of business agent for Local 700.

As a business agent, Anthony has experience representing members of Local 700's public employee membership from law enforcement, firefighters, public works, county and municipal clerks, and more.

In addition to serving as a union representative, he has extensive experience in negotiating successful contracts for members from start to finish. Anthony was elected as Vice President of Local 700 in 2019 and had previously served as Trustee for a five-year term.
Edward Kern has been an Officer and Steward with the Cook County Department of Corrections for over 20 years. He has spent his entire career serving and protecting fellow members and the broader community and is featured in this .

In 2020, Edward Kern was elected to the role of Recording Secretary.

Edward is proud to serve his members in this capacity and will continue fighting for members over the next four years.
Miacole Nelson works for The Clerk of the Circuit Court of Cook County and has for 26 years. While being employed by The Clerk of the Circuit Court of Cook County, Miacole was appointed to be an alternate Union Steward.

Miacole was then elected to be the primary Union Steward for her District in 2012 for Teamsters Local 700. She has extensive experience in negotiating successful contracts and was appointed to the Board of Education for Thornton Fractional Township High School District 215 for a 2-year term.

Miacole was elected as Trustee of Teamsters Local 700 in 2019.
William Moskal started with the City of Chicago in October 1982 as a Motor Truck Driver.

He has worked in many departments within the City of Chicago, including Street Traffic (Towing), Department of Aviation, Sanitation (Garbage), Traffic Services (Towing), and Street Operations, during winter programs.

William became a Foreman of Motor Truck Drivers in July of 1996 and is currently a Foreman of Traffic Services and Special Traffic. He also serves as a Foreman for Street Operations winter programs (Plow Teams) (2002 - Present).

His family history in the Teamsters goes back over six decades, with his father being a member of Teamsters Local 705 and his three brothers, Teamsters Local 726.

Teamsters Local 700 elected William to serve as a Trustee in December of 2019 for a five-year term.
| | |
| --- | --- |
| | Gregory Ortiz is a proud U.S. Army veteran, father, and 25-year Teamster. He is a current foreman who has served as a City of Chicago Motor Truck Driver, steward, business agent, political director, and on the Local 700 Executive Board. |
---
AGENTS & OPERATORS

---
---

---

---

---

---

---

---

---

---

---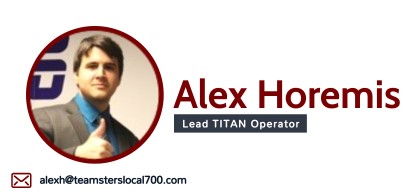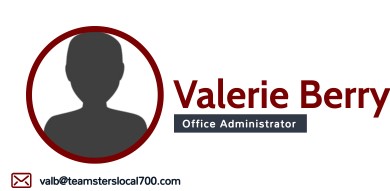 ---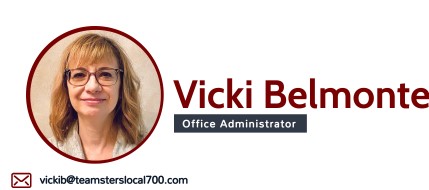 Page Last Updated: Jun 27, 2023 (14:11:37)