Local 700 Wishes A Happy Retirement to RAYCE JACOBSON!
by Local 700 Communications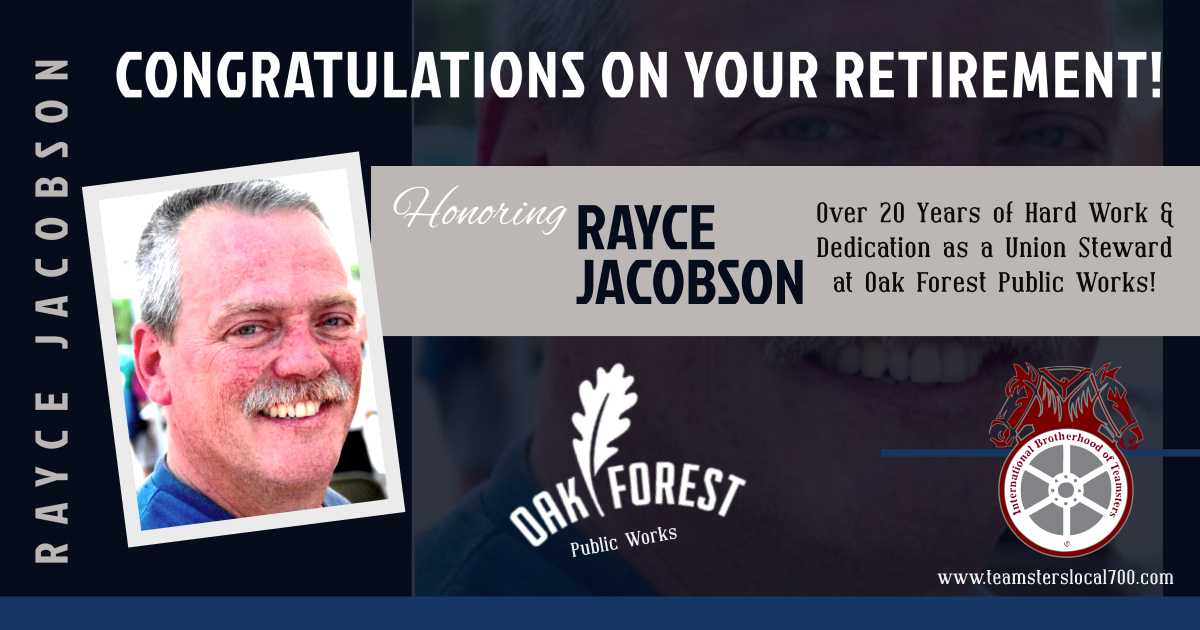 Teamsters Local 700 congratulates Rayce Jacobson for over 20 years of service to the City of Oak Forest and his fellow Public Works Department members, whom he has diligently represented as Steward!
"Rayce embodies what it means to be a Union Steward," said Business Agent Geoff Daniels. "He has been a tough, dedicated representative for this bargaining unit for decades, and the Local joins his coworkers and community in thanking him for his incredible work."
"After working with Rayce for 24 years, the first word that comes to mind when describing him is dedication," added incoming Steward Mike Bjelke. "Dedication to his job, his family, and his coworkers. Rayce has set the bar high for us to follow, and we hope he enjoys his well-deserved retirement."
"Rayce Jacobson has proven himself to be a true unionist, a loyal Teamster, and an advocate for the working man," said Anthony McGee, Teamsters Local 700 Vice President and former Business Agent for the unit.
"It has been an honor to have worked with Rayce for the past decade."
From all of us at Teamsters Local 700, thank you again for your service, Rayce. We wish you the best in your retirement.